By Shannon Courtney, guest blogger
This past Saturday (Nov 20th), I had a chance to take in some Good Tidings on the North Shore and had the most brilliant time. A couple of weeks prior, I learned that Peggy Miles of the Redhead's Garden Shed was hosting a bookmark-making workshop that would also involve a wine tasting experience with Lesley Quinn of Stellar Somm. What a pairing! I reached out to some of my favourite gal pals and, happily, they were all as excited as I was at the idea of crafting and imbibing on a Saturday morning.
I woke up Saturday morning, excited for a relaxing day on the North Shore with friends. It had snowed overnight, creating a beautiful winter wonderland as I left the city behind.

Upon arriving at the Cavendish Visitor Centre, I was wholly impressed by the set-up on display. Peggy, Lesley, and the other organizers had gone all out to create a workshop space that had absolutely everything needed for a morning of bookmark making. Peggy had organized all of her vintage papers, books, cut-outs, and other crafting supplies (scissors, hole punches, various glue sticks) with meticulous attention to detail.

After we all settled in at our equally-impressive workstations, Peggy led us through an engaging and informative session on how to craft our bookmarks from beginning to end.

At our table, most of the gals confessed that they were not crafters at all (myself included) and weren't feeling all that confident about their creative abilities. But that all changed after Peggy gave us some valuable tips and guidelines, then let us loose in her pop-up workshop!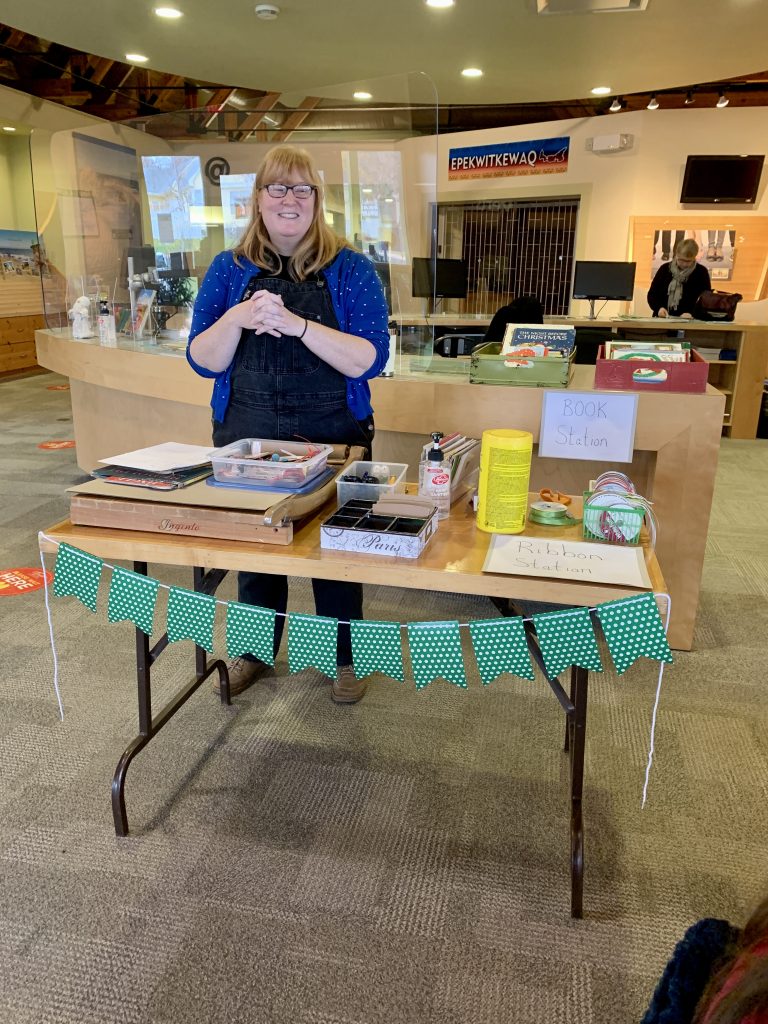 Before you knew it, we were all cutting, gluing, and laughing out loud as we set about creating our bookmarks. Some of my gal pals made bookmarks for themselves, while others made bookmarks for their kids or friends.
Everyone had their own very unique style and, oh boy, some of them gave us all a great laugh!
My three creations (see below, furthest right) were definitely on the 'sweet and simple' side, whereas some of the others went a different creative route. Chelsey (above left) took the opportunity to craft a poem to herself that was the epitome of self-love!
When the noon hour hit, it was time to sample some wines. Our incredible sommelier, Lesley, took us on a tasting flight of fancy with three wines that I'd never tried before.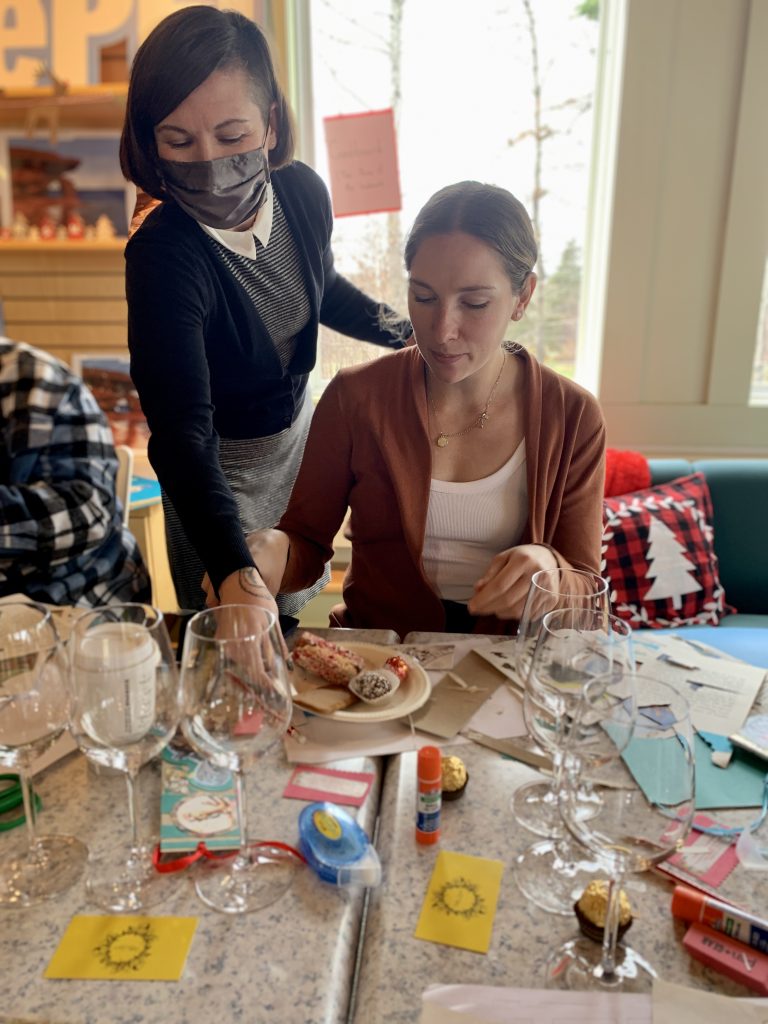 As she poured each wine, she led us through a pre-tasting adventure in smelling the wine's bouquet and trying to identify the various components. We were also given a plate of yummy treats that were meant to complement the wines (and vice versa). The peppermint biscotti paired with the sparkling rose (Bottega), the gingersnap with the BC Viognier (Moraine), and the Lindor chocolate with the light, peppery Chenas Quartz.
Each wine was delightful and Lesley's passion for the world of wine was palpable. Beyond introducing us to three new wines and teaching us pro techniques to appreciate their depth and complexity, Lesley also answered our many questions about wines in general and shared her tips on how to find the highest-quality wines (hint: the price point isn't always the best gage, although it's hard to find a well-made wine under $15)
With our amazing 3-hour workshop with Peggy and Lesley wrapped up, we made our way to Cottage Life Boutique (just across the street) for festive shopping fun. We were greeted by the owner, Marsha M. Doiron, upon arrival and it was immediately evident that she loves Christmas! The whole store was packed with beautiful home decor and lifestyle items – perfect for holiday gifting and/or making bringing festive cheer to your own home.
Damien Morris of Damien Morris Designs was also in-store, providing guidance on how to create beautiful holiday centerpieces and table settings!
After we all stocked up on gifts for ourselves and loved ones, I made my way to Glasgow Glen Farm. Every shop that is participating in Good Tidings on the North Shore is adorned with a green wreath a part of the 'Follow the Wreath Trail' guide, but Glasgow Glen has the honour of being home to the 6-foot wreath that's meant for photo ops. Since I was now on my own, not photo op for me, but that's ok, because cheese awaited me inside!

In case you haven't been to Glasgow Glen Farm, you should know that they sell more than good Gouda cheese on-site. They also have an array of baked goods (including the most massive cinnamon rolls every and delicious sourdough bread) and serve up delectable wood-fired pizzas. If you're heading out for a day of exploring on the North Shore with the kids, Glasgow Glen is the perfect lunch stop.

They are also taking pre-orders for various holiday treats AND meat pies! Give them a call to place your order or pop-in and place it in person.

For my final stop of the day, I popped into the PEI Preserve Co., another New Glasgow gem that's part of the Good Tidings Wreath Trail. Immediately upon entering the lovely retail shop, I was offered a hot chocolate and my choice of butter shortcake, fruit cake, and/or oatcake to enjoy as I browsed the shop.
Oh what wonderful local treasures I discovered on their shelves! They had everything from a wide assortment of Preserve Co. teas, preserves, and gourmet condiments, to hot sauces, dressings, honey, smoked fish, fudge, and other edible delights made by fellow PEI food producers. Plus, they had plenty of holiday gift boxes to choose from – something for everyone, including the candy lover, chocoholic, and tea drinker for sale in-store and through their online shop.
I made my way back to Charlottetown with a trunk full of goodies and a heart full of warmth and love. My day of Good Tidings on the North Shore was exactly what I needed to find the spirit of the season – the company of great friends, plenty of laughs, a relaxing and creative activity, a sampling of well-selected wines, a few tasty treats, and holiday shopping that was fun, easy, and filled with local treasures!

Good Tidings on the Nort Shore continues every weekend until December 12th and there's plenty of fun to be had each weekend – from wreath-making to live theatre (A Christmas Carol), burger blitzes, knitting workshops, pop-ups at various shops, and, of course, the Christmas Lights in North Rustico. I encourage you to get your favourite people together and take a trip out to PEI's North Shore for a relaxing weekend of festive fun!