Cottage Life Boutique
Cottage Life Boutique opened in June 2021 and quickly became a popular must see shop in the heart of Cavendish, PEI.
Owned by local entrepreneur Marsha Doiron, Cottage Life Boutique is a unique, artisanal, home decor store, filled with products that allow you to bring Cottage Life not only to your cottages but your home, apartment, condo, and/or camper trailers!
Located in Cavendish PEI at The Cavendish Corner, Cottage Life Boutique features candles, home decor, pantry items, houseplants, planters, soap, and more!
2023 Hours:
June M-F 11-4 S&S 10-5
July 9-6
August 9-6
September 10-5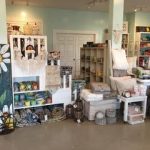 8572 Cavendish Rd Cavendish, PE, Canada C0A 1M0
Visit Website
Related Activities