Whether you drive across 'The Bridge', fly into Charlottetown, or take the ferry to Wood Islands, you'll probably feel as though you've arrived in another world. A charming world that gives you that tingly feeling that can only mean one thing: your soul has been stirred. 
In reality, Prince Edward Island (PEI) is located on the east coast of Canada, in the region fondly referred to as 'the Maritimes'. It's nestled in the Gulf of St. Lawrence, an easy 15-minute bridge crossing or 75-minute ferry ride from its fellow Maritime provinces of New Brunswick and Nova Scotia. Once you've arrived on PEI, make your way to the spectacular north shore to explore Cavendish and let your spirit run free.

Pssst…notice how we only have a Getting Here section and not a 'Leaving' section? That's because once you're here, there's a very good chance you'll never want to leave. Plus, if you *must* leave, it's pretty easy to follow the Getting Here directions in reverse. 
The bridge that connects PEI to New Brunswick and mainland Canada is almost as famous as the island itself. Constructed in the late 1990s, Confederation Bridge is the longest continuous span bridge in the world crossing ice-covered waters and remains one of Canada's greatest engineering feats of the 20th century. At 12.9 km (8 miles) in length, crossing the curved, undulating bridge is a memorable experience in itself, but it's also the fastest and easiest way to access the Island.
And in case you were wondering, in true Islander fashion, very few locals call the Confederation Bridge by its official name, preferring to affectionately refer to it as "The Bridge".
Learn more about Confederation Bridge.
'Seas' the opportunity to step back in time and travel to the Island courtesy of Northumberland Ferries. Sit back, relax, and let yourself be lulled into Island time during the 75-minute ferry ride from Nova Scotia to Prince Edward Island. Make your way to the viewing deck and watch the gulls and fishing boats in the distance, enjoy a meal in the cafeteria, and treat the family to COWS ice cream cones. 
Summertime crossings feature unforgettable Seaside Experiences—a showcase of the finest music, entertainment, food, wine, and beer samplings the region has to offer. All complimentary of Northumberland Ferries and its partners, you'll get your first taste of PEI hospitality before you even arrive on our shores!   
The PEI Ferry operates from May to December, and sails up to 9 times a day between Caribou, Nova Scotia and Wood Islands, PEI. The drive from the ferry terminal to Cavendish is 100 kilometres (60 miles).
Learn more about the Northumberland Ferry Service.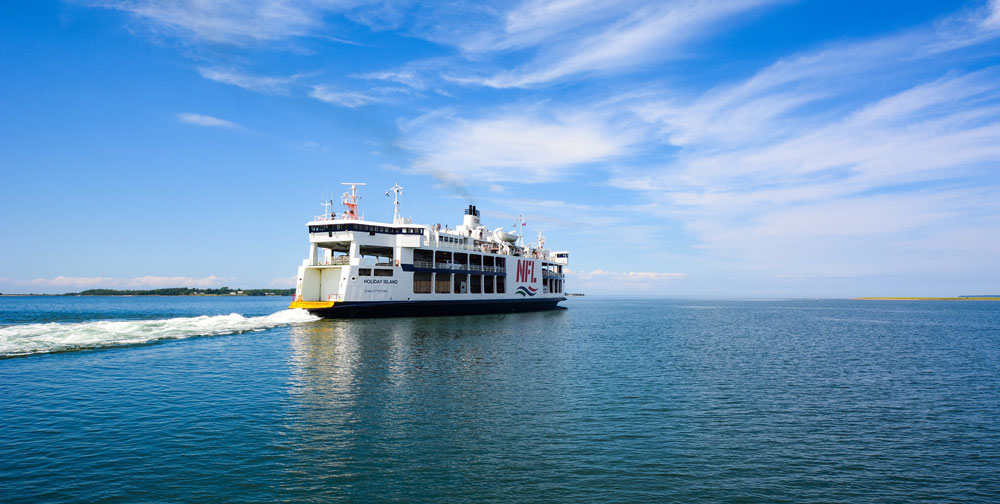 Yes, you can fly to PEI! Charlottetown Airport is located mere minutes from downtown Charlottetown, the Island's capital city. It's also centrally located, putting you within easy driving distance of the Cavendish area (approximately 40 mins), and all other regions of the province.
In addition to its convenient and central location, Charlottetown Airport also offers an exceptional airport experience. You can look forward to a stress-free and secure arrival and/or departure from the airport's easy-to-navigate terminal, pick up/drop off your rental car (or access public transit and taxis), and enjoy a meal on-site. 
Learn more about flying to PEI.