Summerside Farmers Market
The Summerside Farmers Market is the place to be if you are looking for farm fresh veggies, fruit, eggs, meats and cheese. Also find hand crafted home decor items, authentic Island made gifts. Enjoy some family fun in the playroom.
Come by for a bite to eat and meet the locals on Wednesday evenings from 4–7 pm in July and August or Saturdays from 9 am–1 pm all year round.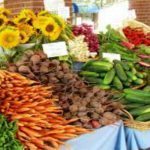 Related Activities