We're not sure how PEI does it, but every time we step foot on this beautiful province, we end up feeling like little kids again.
Maybe it's the rolling green hills that have stories to tell, or the warm coastal waves you know you'll be jumping in soon. Maybe it's the food (PEI potato goodness, cows ice cream, chocolate-covered chips, fresh seafood, the list goes on) that makes your mouth water just thinking about it. Or, maybe it's the vibrant red sand that you know grains of will be following you home in your shoes, clothes, and under your nails as unintentional keepsakes. It is without question that Prince Edward Island has a youthful spirit about the place that makes Island time more relaxed and carefree.
Have you experienced this phenomenon before? We can't get enough of it. And what is PEI fun without a trip to the cherished Cavendish Beach area!
Located along the Green Gables Shore of the Island, Cavendish is a timeless vacation destination. What we love about this spot on the Island is that it is so accommodating for people of all ages. Of course, while it is treasured for its miles of white sandy beaches, amusement parks, shops, the Cavendish Beach Music Festival, golf courses, and stepping into the land of Anne of Green Gables.. Did you know that the Cavendish Beach area is also a great source for an adventure?!
---
Visiting in the Summer of 2021, we sought out as many fun adventures as we could fit into a two-day trip and had such an amazing time.
Here are 3 Cavendish Beach adventures to get your blood pumping, channel your inner kid, and transport yourself to amazing photo opportunities:
Kayaking
When seeking adventure in the Cavendish area, a fantastic place to start is North Rustico at Outside Expeditions. Located at the mouth of this fishing harbour tucked between cute shops, delicious restaurants, and sightseeing spots, they have been outfitting expeditions on Prince Edward Island since 1993. Offering kayak, bike, SUP, and canoe rentals, as well as tours too – they will most certainly get you on the right track to adventure.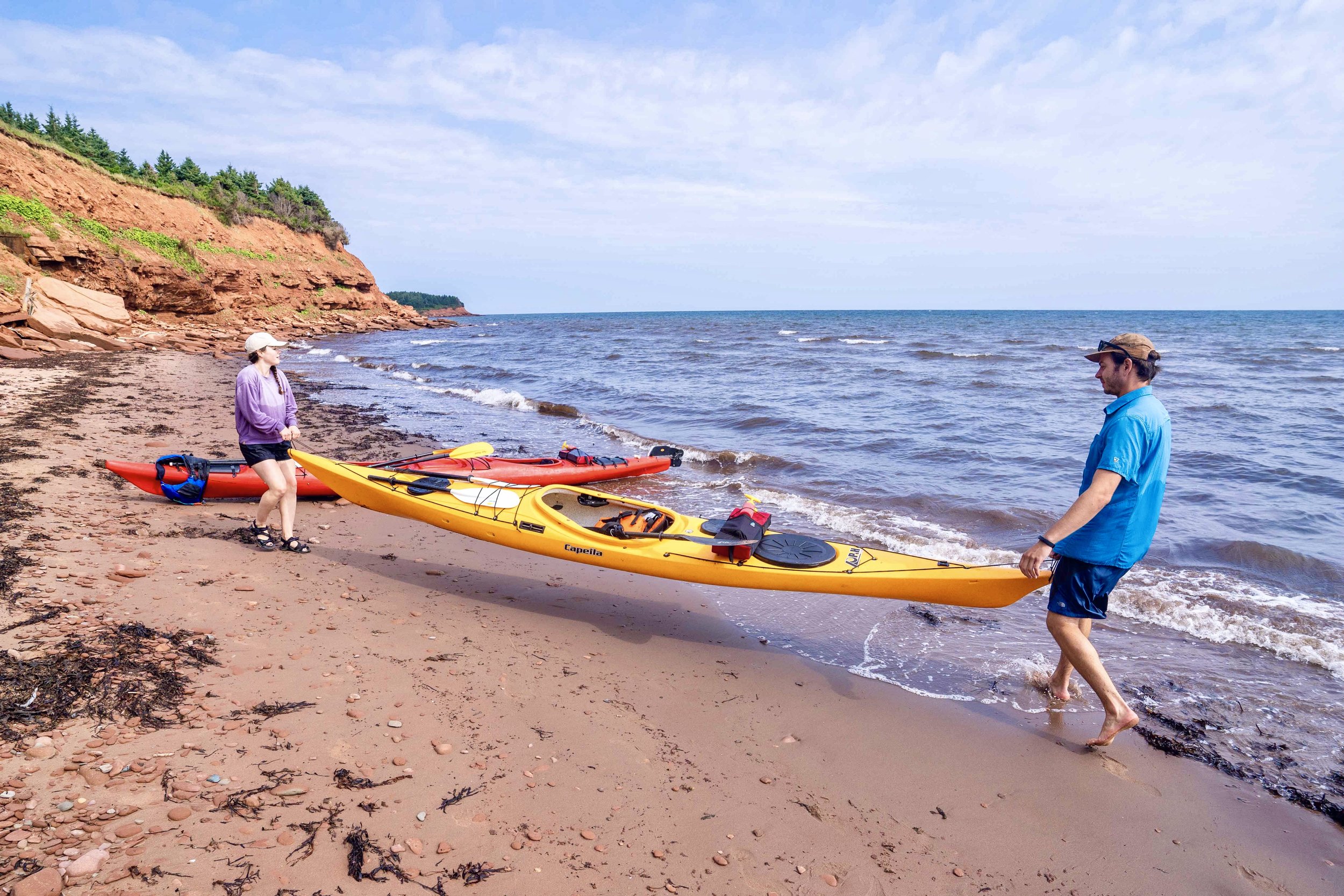 Itching to get out on the water and see PEI's famous red sand cliffs from the sea, we had to try out kayaking. For kayaking, they offer beginner tours, intermediate 2-3 hour tours, custom-built tours, as well as more advanced 6-hour tours that take travellers out farther down the coast along the PEI National Park.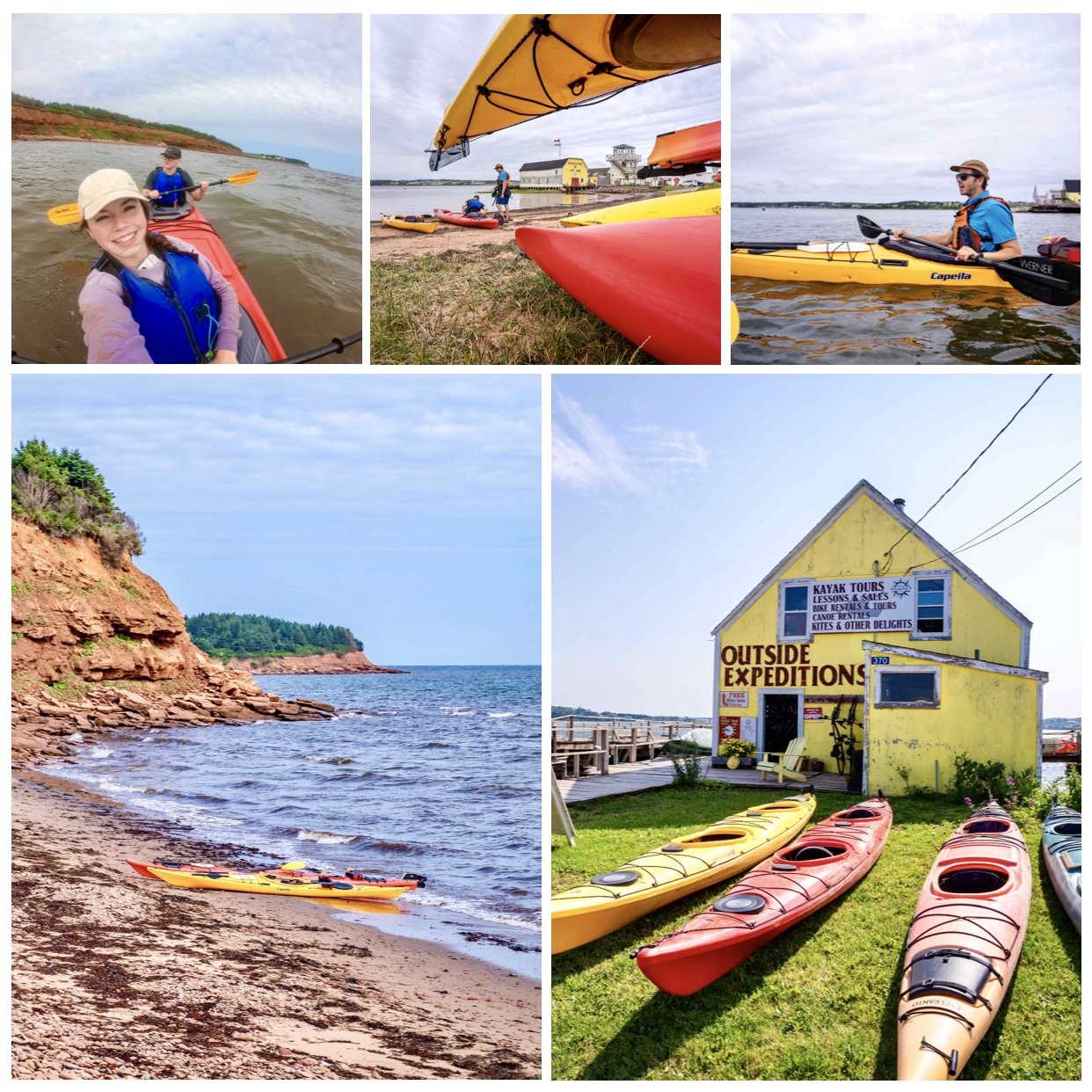 Winds were quite high on the particular day we were there, making waves cap off the coast, and while we had the option to cancel, us and our guide were determined to adventure out and see this beautiful area from a kayak. Thank goodness we did because we had SO. MUCH. FUN. Hearts racing, covered in salt spray, and with big saltwater grins, we paddled fiercely through waves and wound our way out of the harbour to a quiet spot along the coast. I can only imagine how incredible a tour like this would be on a calmer day. Our local guide was informative, checked in on us lots, and was able to add some history and stories to the experience too. It was so cool to experience the red cliffs from this angle.
LEARN MORE ABOUT KAYAKING WITH OUTSIDE EXPEDITIONS
Cycling
Prince Edward Island's gentle terrain make the entire Island a great place for cyclist and boasts over 300km of biking trails. When planning your Cavendish Beach adventures, be sure to pack your bikes or visit Outside Expeditions because they rent top-quality bikes, children's bikes, trailers, and tag-along bikes. Trails here will take riders through rolling green fields, by red cliffs, near sandy beaches, fishing villages, and perfect picnic spots.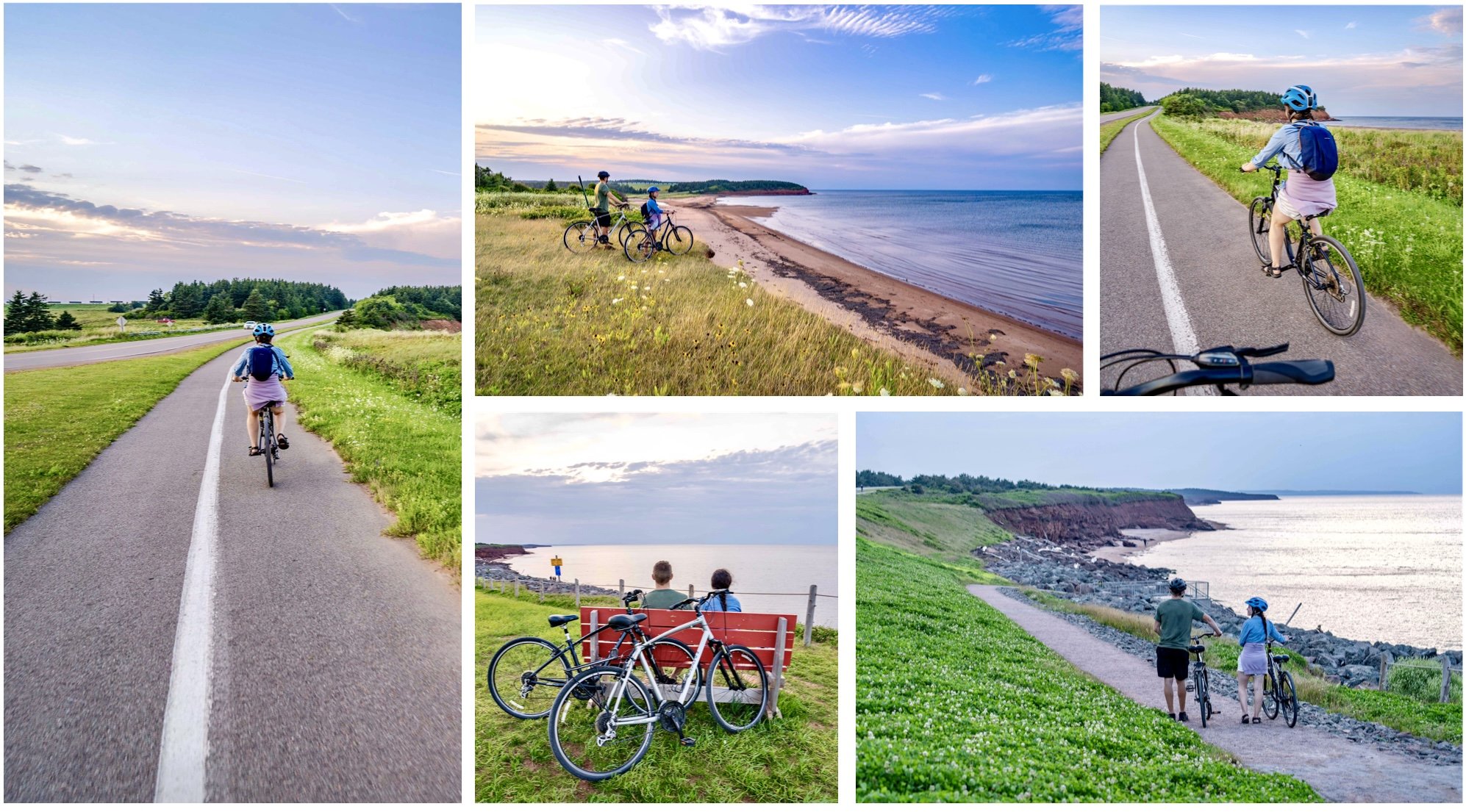 The trail we checked out while here was the Gulf Shore Parkway. Newly upgraded alongside the beautiful Gulf Shore Parkway road, this 10km trail is a paved two-way route that winds from North Rustico to Cavendish. We loved how smooth and easy to ride this trail was, and while we didn't get time to check out other trails that branch off from this one, it's so cool to know they are there for next time! A mix of nice flat stretches and rolling hills, this trail is also quite accessible to wheelchair and stroller adventurers. Spending a warm evening cycling along the Gulf Shore Parkway stopping at as many little lookouts around every bend as we could was pure bliss. Hopefully, you get to experience this fun Cavendish Beach adventure someday too!
If you're not feeling a solo cycle day, Outside Expeditions offers tours as well.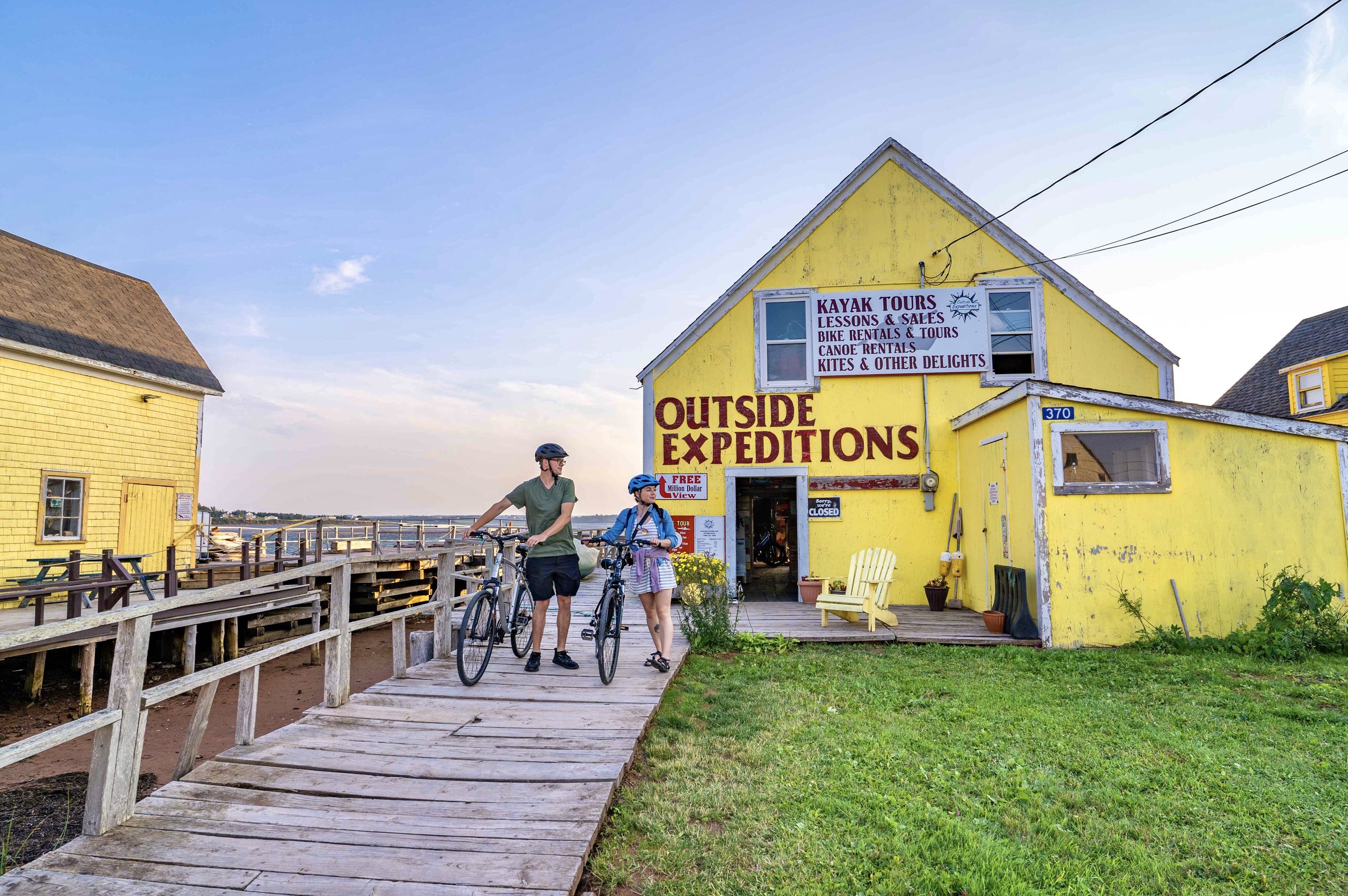 LEARN MORE ABOUT CYCLING / BIKE RENTALS WITH OUTSIDE EXPEDITIONS
Boat Tours
And the last, but certainly not least, adventure to go on in the Cavendish Beach Area is a boat tour with Dog Boat Tours! This is the perfect experience to do with a group of friends or family (up to 6) and yes, your dog if you have one too! The private tour allows you to sit back, relax, and watch the water roll past as you make your way to some of PEI's hidden gem locations that are only accessible by boat.
Setting off from Stanley Bridge, owner Dan took us through New London Bay where we viewed the historic New London Lighthouse (notable for having one of the few female lightkeepers in Atlantic Canada), out around the Cavendish Beach sandbars, and along the coast where all you could see was magnificent red sandstone cliffs on one side and the wide-open sea on the other. A highlight of this trip was undoubtedly getting to see Cape Tryon from a boat! We've visited this famous lighthouse in the past and the views from the top are incredible.. But getting to see the highest cliff in all of Prince Edward Island from below in a boat was both breathtaking and humbling. Circling this spot for a little while soaking up the view all to ourselves (minus the accompanying seabirds), we eventually made our way to a private cove for lunch. Here we had a picnic feast that we picked up earlier that day from Samuel's Coffee House before visiting the deepest sea cave on the Island. Seriously, Dan knows all the awesome hidden gems!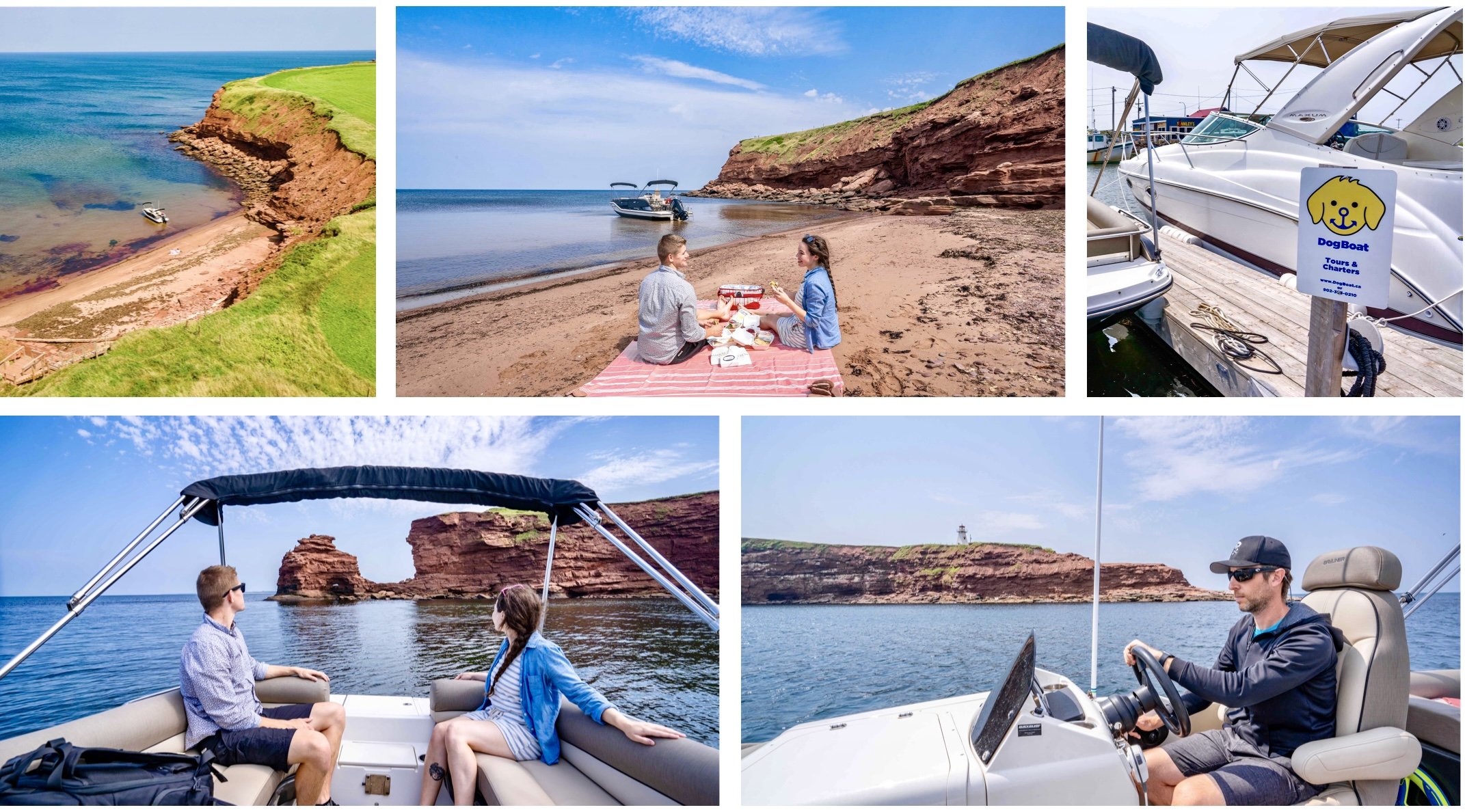 We couldn't recommend this tour enough. It was the perfect mix of excitement, relaxation, and getting the opportunity to visit unique locations that few tourists get to. Wondering what to pack? Here's a little list of what to bring from the Dog Boat website:
Beach stuff! We can stop at a beach and explore as much as you'd like.
It can feel cool, even in the summer months. Please bring some warm clothes if you're easily chilled.
Camera! You're going to want to remember this.
Sunglasses. It's bright and sunny out there! With the reflection off the water having good shades is almost a must.
Sunscreen. If you haven't heard, the sun can burn your skin.
LEARN MORE ABOUT EPIC TOURS WITH DOG BOAT TOURS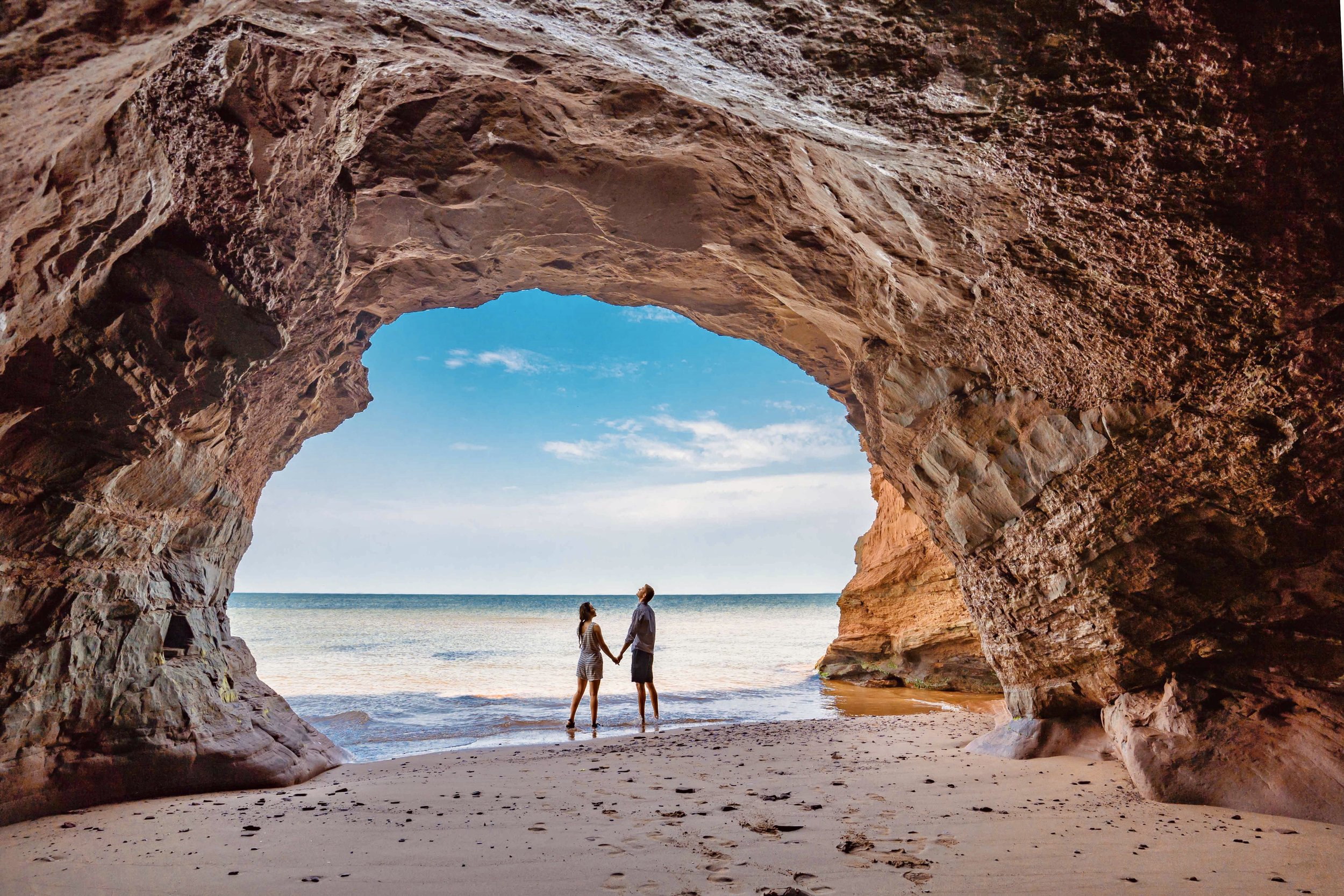 We hope this blog helps you plan your upcoming Cavendish Beach travels or maybe inspires you to make some – with a touch of adventure of course!
Here's a little video recap from our trip as well:
See where we stayed, ate, and other fun things we got up to! Subscribe to our YouTube channel for more Atlantic Canada travels.
* This post was done in collaboration with Cavendish Beach and Tourism PEI but all opinions expressed are our own. *