For those who need a few days away with your loved one, check out this weekend fall itinerary on the North Shore of PEI! Our top fall activities included are PEI culinary events, enjoying the fall colours on the Island, and visiting local shops!
First things first: Where to Stay
Take a look at our top recommendations for places to stay as a couple in the fall here:
For fall packages and deals, see our romance packages here.
Weekend Itinerary:
Friday Afternoon/Evening:
Start your romantic weekend by arriving in Cavendish and checking into your chosen accommodation. In the evening, enjoy one of PEI's culinary events. You can choose between the Fall Flavours festival (running from October 1st to October 15th, 2023) and the PEI International Shellfish Festival (happening from September 14th-17th, 2023). PEI isn't called Canada's Food Island for nothing–you will not want to miss the opportunity to attend a PEI culinary experience! We are especially looking forward to the Thanksgiving Fish Fry happening in North Rustico! If you are in Cavendish on a different weekend, enjoy a dinner at one of the local restaurants such as Carr's Oyster Bar, or Piper's Restaurant. Take in the natural beauty of Cavendish by going on a sunset stroll on the beach, or stay in and relax by the fireplace or in your cottage's hot tub.
Saturday:
Morning:
Start the morning by going to The PEI Preserve Company in New Glasgow to enjoy a delightful breakfast. After your meal, you can stroll around the garden or go for a walk or bike ride on the trails. Cavendish has many trails that are full of vibrant colour in the fall. Some of our favourites are the Gulf Shore Parkway and the Homestead Trail. For more trails, visit our blog here. If it is rainy or you prefer to be indoors, you can spend your morning strolling through charming local shops. Visit The Dunes Gallery & Café, JEM Books, The Maker's Place, Star and Stable Christmas Store, and Cottage Life Boutique, to name a few.
Afternoon:
Take the afternoon to explore North Rustico. Enjoy lunch at Tides and Tales and then you walk the boardwalk along the harbour, go for a stroll on the beach, or explore the shops in North Rustico. Rustico Bay Wool Sweater Company has beautiful woolen sweaters and local items.
At dinner, head to the Blue Mussel Café for a delicious seafood meal! Then, spend the evening watching the sunset or bundle up and go stargazing if it is clear night–see the best places to go stargazing here!
Sunday:
Morning: Enjoy breakfast at Samuel's Coffee House in Cavendish. Spend the rest of the morning doing whatever interests you–whether that is visiting the Green Gables Heritage Place, getting out on more of the trails, or taking a scenic drive to see more fall colours on the Island!
Looking for more fun activity ideas? Here are some more great things to do!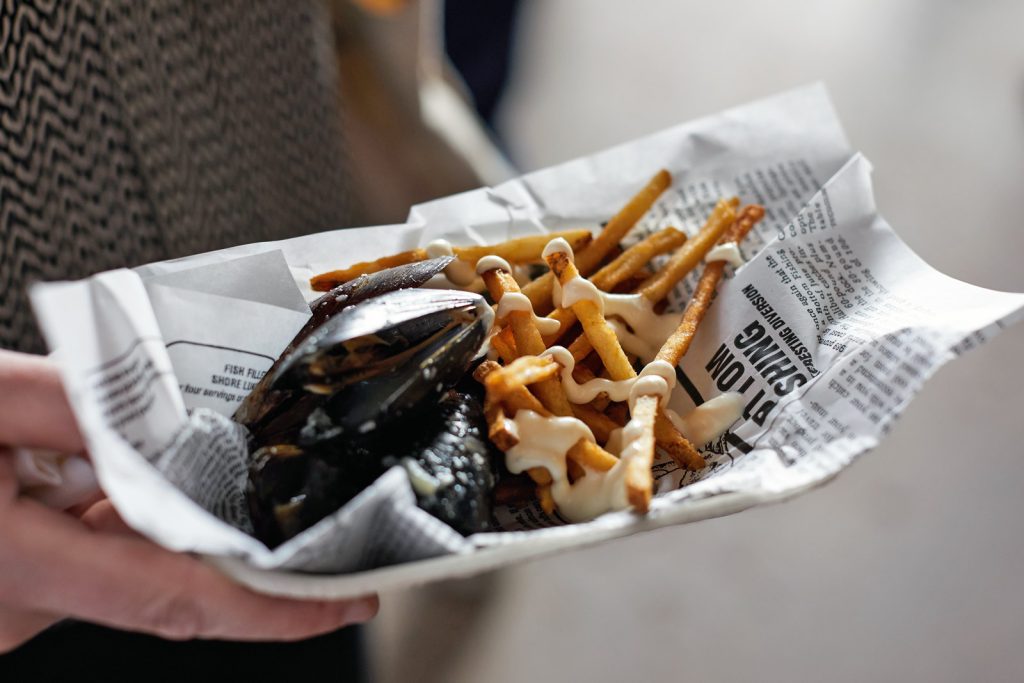 Check here for places to eat on the North Shore in the fall!
Places to Eat*:
Samuel's Coffee House – Closing Date: September 17th, 2023
Carr's Oyster Bar – Closing Date September 30th, 2023
Sou'West Bar & Grill – Closing Date: September 30th, 2023
Chez Yvonne's – Closing Date: October 9th, 2023
Blue Mussel Café – Closing Date: October 21st, 2023
PEI Preserve Company – Breakfast & Lunch – Closing Date: October 9th, 2023
Piper's Restaurant – Closing Date – October 22nd, 2023
*Please check individual restaurants for hours