There's no better way to swing into summer than by getting out on the green with your trusted clubs and best buds. Take in the 2022 golf season by heading to Cavendish Beach, in the heart of PEI's North Shore. With six courses located in close proximity, you can save your driving for the course and pack plenty of golfing into a day.
And let's be honest, you already know you're going to want to golf more than one round. Not to worry, we have you all sorted with vacation packages that pair incredible golf deals with accommodations that are a golf ball's throw away from the courses. We're talking golf trail cards and unlimited golfing. Yes, that's right, unlimited golfing – your dream vacation can come true!
Keep reading for the scoop on Cavendish Beach's golf courses and golf packages that are as impressive as a hole-in-one.
GOLF PACKAGES
Unlimited Golf You Say?
Yes, yes we do say! It's the ultimate dream getaway come true for any golfer with a penchant for hitting the greens from dawn until dusk. And we promise, there are no catches. When we say unlimited golf, we mean it plain and simple.
So, how does it work? All you have to do is book with one of our Cavendish Beach accommodation partners that's offering the Unlimited Golf Package and you're good to go golfing.
The Unlimited Golf Package includes as many rounds at each premier course as you can fit into your golf vacation at Eagles Glenn, Green Gables, Anderson's Creek, and Glasgow Hills – power carts and range balls included!
A truly incredible value for any golf lover. Plus, you'll be in Cavendish Beach, so if/when you need a break from golf, north shore beaches and fresh seafood are close at hand.
Golf Trail Card
The Golf Trail Card is kind of like experiencing a flight of beers at a craft brewery, except you get to experience a flight of golf courses in Cavendish Beach. What could be better?
With the purchase of this card you'll get one green fee to each of Cavendish Beach's premier golf courses: Eagles Glenn, Green Gables, Anderson's Creek and Glasgow Hills.
CAVENDISH BEACH GOLF COURSES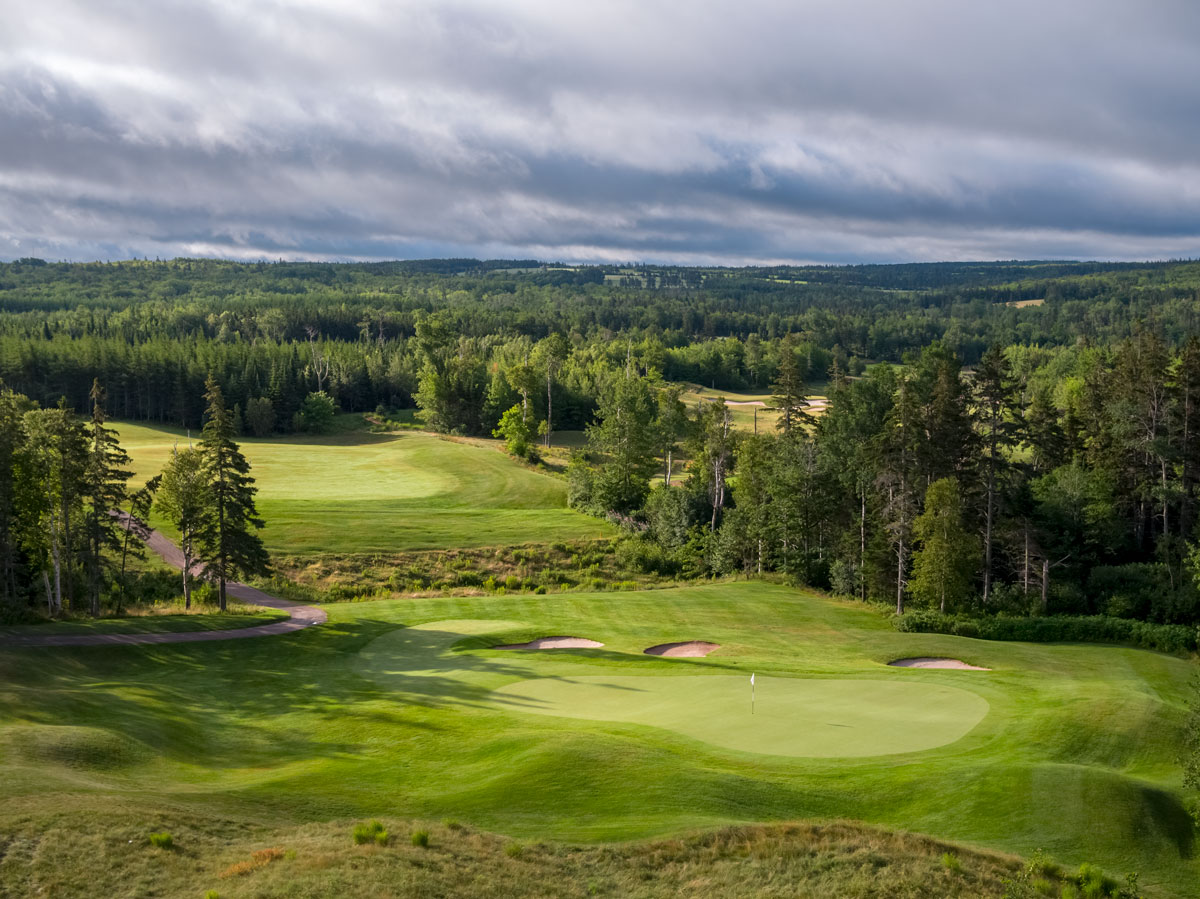 Eagles Glenn of Cavendish
Situated on over 300 acres of stunning countryside in the heart of Cavendish, this championship 18-hole course in the heart of Cavendish will impress even the most seasoned golfers. Designed by Graham Cooke, this stunning 72-par course features 10 par 4s, four par 5s, and four par 3s with bentgrass greens, tees, and fairways. You'll also find a state-of-the-art practice facility on the grounds, along with food and beverage service.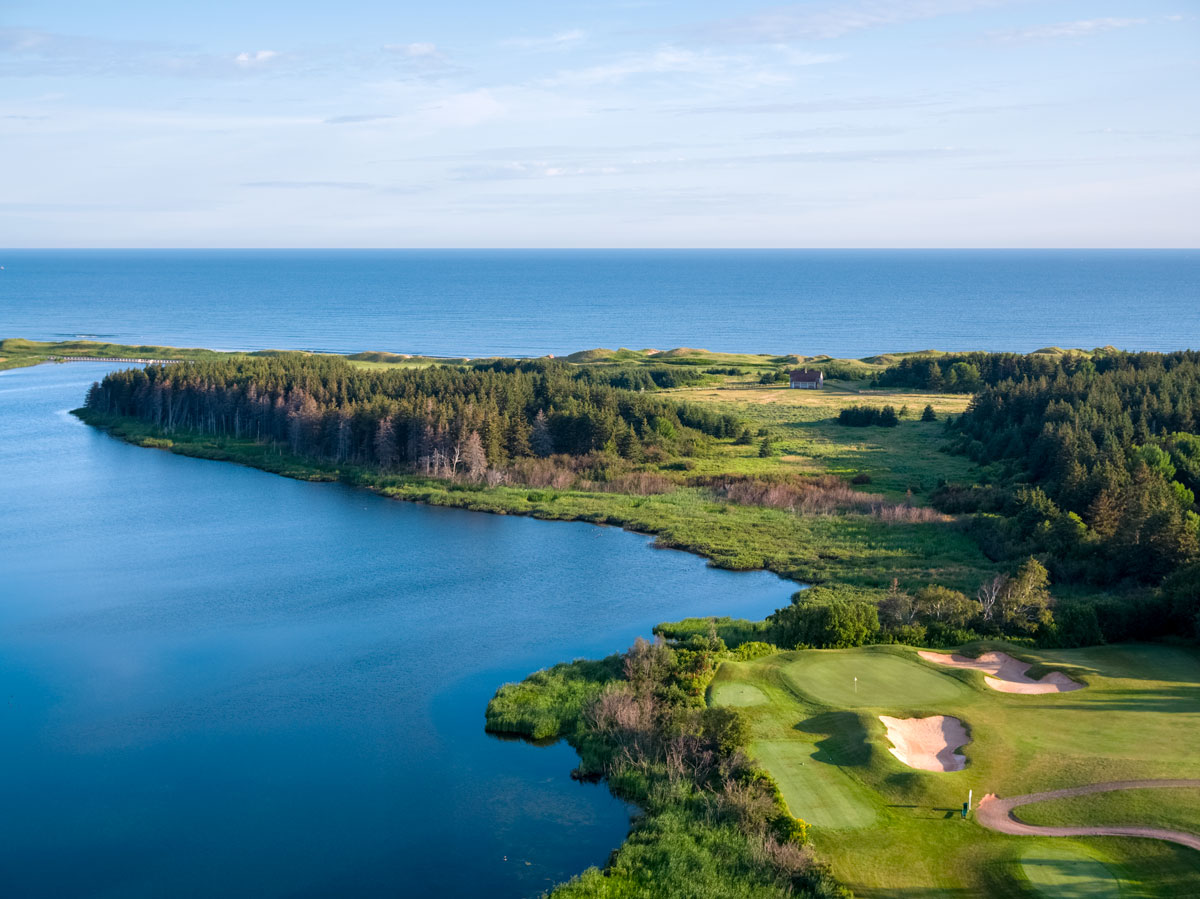 Green Gables Golf Club
PEI's longest-running golf club, Green Gables Golf Club was designed in 1939 by world-renowned architect Stanley Thompson and underwent restorations in 2007 by Thomas McBroom. While the club is located in thick of things, just steps away from Green Gables Heritage Place and within the National Park, you'd never know it once you're on the course. Replete with mature forests and stunning ocean views, you'll feel like you're a million miles away from anywhere as you play this challenging 18-hole championship golf course.
Anderson's Creek Golf Club
Located just west of Cavendish, Anderson's Creek Golf Club is nestled in the heart of Stanley Bridge, a tiny bayside community with fishing and agricultural roots. Designed by Graham Cooke, this 9-hole course boasts rolling hills with big greens and water hazards. The club's namesake, Anderson's Creek, is arguably the most distinguishing feature of the course.
Glasgow Hills Resort & Golf Club
An exceptional golfing experience awaits at this 18-hole championship course located just south of Cavendish Beach. Offering incredible panoramic views of the PEI countryside, River Clyde and Gulf of St. Lawrence, the setting is as incredible as the golfing! With a four star rating from Golf Digest amongst its many accolades, Glasgow Hills provides an exceptional gold experience for golfers of all skill levels. And if you expect to work up an appetite on the course, be sure to enjoy a meal at Piper's Restaurant, which offers gorgeous views of the course.
Get Ready to Golf Cavendish Beach!
Well, there you have it, everything you could dream of for an unforgettable golf getaway is waiting for you in Cavendish Beach. What are you waiting for? Book your stay today, pack your clubs and come play golf to your heart's content on PEI's North Shore.