"I can't cook, as you know, Marilla, and—and—I don't mind going to a picnic without puffed sleeves so much, but I'd feel terribly humiliated if I had to go without a basket." L.M. Montgomery, Anne of Green Gables
In 2020, puffed sleeves aren't so much a thing, but picnics are certainly making a comeback as families and couples seek out new ways to enjoy a meal while social distancing.
With the arrival of summer, Cavendish Beach is the perfect place to plan a picnic adventure. Whether you're looking for a romantic spot to dine al fresco with your beau or an easy-to-access picnic location with lots of green space for the kids to enjoy, you'll find a place to suit all your needs.
While an idyllic location is one part of the equation, excellent food is the other key to a picnicking experience you'll remember long after you've finished your last bite. Fortunately, the North Shore is replete with restaurants, cafes, and eateries serving up local dishes that will elevate your picnic lunch or dinner to a whole new level.
With most eating establishments offering take-out options in 2020, your Cavendish Beach picnic outing can be a cinch to plan. All you have to do is choose the perfect location and then place a takeaway order filled with picnic-friendly options.
Ready to plan the ultimate picnic on PEI's gorgeous North Shore? Here are some favourite locations that would have undoubtedly won Anne Shirley's approval: 

Avonlea Village

–

Round up the fam jam and head to Avonlea Village in the heart of Cavendish. Recreated to resemble the fictitious 19th-century town of Avonlea from L.M Montgomery's famous novel, Anne of Green Gables, it's one of the prettiest little villages in all of PEI. Featuring tranquil gardens and green space swaths, you'll have no trouble finding your own piece of picnicking paradise. And with several on-site eateries to choose from, everyone in the family will be a happy picnicker.

North Rustico –
This charming fishing village may be tiny, but don't let that fool you! North Rustico punches above its weight when it comes to delicious eateries and scenic vistas to enjoy. Order takeaway from one of the waterfront restos, then find your perfect picnic venue. Feeling the beach vibes? Head to the PEI National Park entrance at the end of Beach Lane (no entrance fee) and enjoy your picnic while you watch fishing boats dance on the sparkling waters of North Rustico Bay. Or, if you fancy a wee bit of walking to work up your appetite, take a stroll along the Seawall Park and find a quiet spot along the boardwalk to dig into your picnic basket.
Green Gables –
Located in the heart of Cavendish, Green Gables Heritage Place is more than just the house that inspired L.M. Montgomery's most famous novel. With its lush gardens, inviting green spaces, and wooded trails, you'll have your pick of picnic spots. Channel your inner Anne Shirley by picking up some raspberry cordial drinks to enjoy with your spread and make sure you take a walk along the Haunted Wood Trail during your visit. 

Cavendish Beach –
Is there anything more romantic than a picnic at sunset? Better still if you can find yourself a secluded stretch of sandy beach overlooking the sparkling blue ocean waters. With miles of pristine beachfront set against a backdrop of sweeping white sand dunes, Cavendish Beach is the quintessential destination for an intimate, unforgettable picnic date. 

New Glasgow –
Nestled picturesquely into the hill surrounding the River Clyde, New Glasgow is a picture-perfect picnic location! Make an afternoon of it by touring the Garden of Hope, then order a delicious takeaway meal from the neighbouring restaurants to enjoy in New Glasgow's beautiful park!
Photo Credit: New Glasgow PEI
L.M. Montgomery Park –
Officially reopened in 2019, L.M. Montgomery Park is the starting point of the
Inspiring World of L.M. Montgomery Literary Tour
! Order takeaway from nearby restaurants to enjoy in the park while you learn about L.M. Montgomery and the founding Families of Cavendish and the Avonlea Women's Institute. Looking to make a day trip out of your visit? After you finish your delectable picnic, continue on the
Inspiring World L.M. Montgomery Literary Tour
and visit some of the most important and meaningful places which inspired Montgomery to write!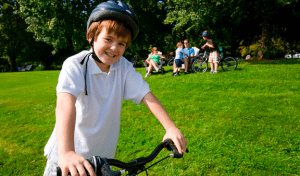 Cavendish Grove –
Looking for a peaceful setting to enjoy delicious Island flavours? Look no further, Cavendish Grove, located in the heart of Cavendish! Named after its large stand of sugar maple tree, Cavendish Grove is part of Prince Edward Island National Park. With extensive hiking and biking trails, order takeaway from a nearby restaurant then hit the trails to explore!

Photo Credit: Tourism PEI/Copyright: © John Sylvester